People, places and things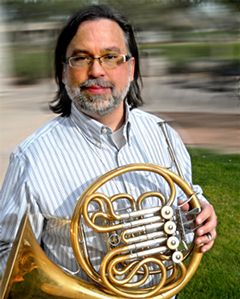 Bruce held principal horn positions with the Mexico City Philharmonic, Tucson Symphony Orchestra and West Valley Symphony, and was also a third hornist in the Fort Wayne Philharmonic.
He has also performed with the Houston, Phoenix and Chicago Civic symphony orchestras and for 10 years, he was a faculty member at the Bay View Music Festival.
For 5 years he taught in the public school system: general music, wind band and string orchestra.
Bruce has performed in Europe and across America in chamber ensembles, orchestras, shows and solo recitals. He has recorded several commercial projects including a handful of studio recordings for film and television.
He is a graduate of the Eastman School of Music and Arizona State University.
Listen to Bruce play principal horn
Mexico City Philharmonic a.k.a. "Orchestra of the Americas"
Web Development
Bruce has been creating and developing web sites since 1995, ranging from large e-commerce and community web sites to small "mom and pop" operations.
Over the years, he created a number of commercial and music related web sites, including Horn Matters and the first iterations of The International Horn Society, Osmun Music and the Robert King Music web sites.
Currently retired from freelance web design, a few of his designs still remain online, including: