Home
Auditions
Louisville Orchestra Moves Ahead for Replacement Musicians; Recognition for the League's Man...
Louisville Orchestra Moves Ahead for Replacement Musicians; Recognition for the League's Man of the Year

- - Please visit: Wichita Band Instrument Co. - -
In case any of us were thinking that the Louisville Orchestra Inc. (LOI) plan to hire replacement musicians was a ruse, a news story released this morning confirms this intention is in fact, a reality.
The LOI has firmly declared that the prolonged contract negotiations are over and the hiring process for replacement musicians (outside of the normal and accepted Union parameters) has begun.
The Louisville Orchestra will begin hiring musicians this month to replace those who have been enmeshed in contentious negotiations with the organization for nearly a year, orchestra CEO Robert Birman said Thursday.

"We declared that negotiations were over a long time ago," Birman said. "If the players want to make a proposal, they have that option, but we are at an impasse."

Birman said management will start hiring musicians in April and May, "and the goal would be to have an orchestra by September."

(More.)
Most recently, the Kentucky Opera attempted a similar process with an orchestra of replacement musicians. The results were reported as a mixture of high school and college students, community players and professionals.
During production, the principal conductor stepped down and fled the scene.
A tangled web
To say that this entire matter is very complicated and that it is nearly impossible to present the entire story is an understatement. Suffice to say that LOI is playing hard ball and has ventured out into uncharted waters.
Some in the field hint that this offense may perhaps be related to a larger conflict between the American Federation of Musicians and the League of American Orchestras. In hindsight, it does seem apparent with this case that an agenda of union-busting has perhaps been the intent from the very beginning.
Man of the Year
It is the strong opinion of this writer that if you are considering applying as a replacement musician for the LOI, you will not only be committing career suicide and but you will also be putting yourself into what (in effect) amounts to as a war zone.
Bear in mind that old American saying - to the victor go the spoils.
For the musicians directly involved, this is a very serious issue that has seriously damaged lives and families. From this side of the country out West where involvement is much more passive, the entire debacle (and management's handling of it) looks something like a surreal dark comedy, deserving of being mocked and poked at.
On the magazine stands now
In a fictitious world where a newsstand magazine called Symphonic Metamorphosis exists, the most current issue might look like this.
* * *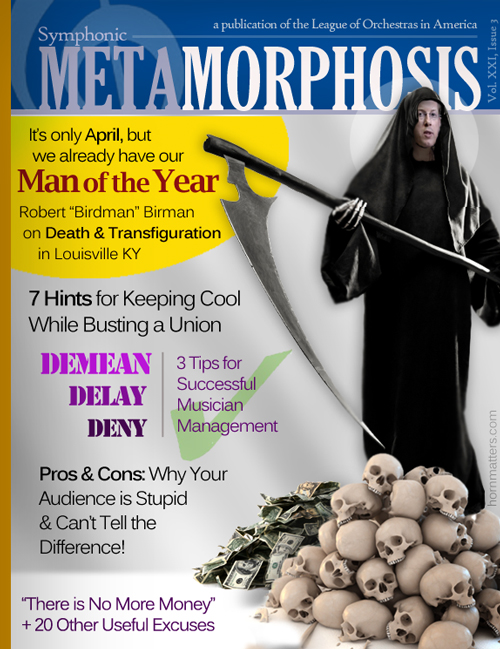 * * *
All fun and games aside, you might be asking yourself how can I help?
1.) Share these stories and images on Facebook and with friends. Please feel free to borrow images from Horn Matters and post them in other places online.
2.) Sign a petition