Archibald Noodlefish on Listening to Live Concerts and Pre-Recorded Music
Being the busy working professional that I am I hardly have the time or energy to write articles for Horn Matters. I am much too busy out in the real world teaching, producing and playing music, but on this one topic I feel that I must speak out.
Long ago, my great teacher Professor J. Windbaag gave me a great piece of advice that I follow to this very day.
Listening is for chumps, doing it is for champs.
While at the time I did not fully understand what he meant by this, over time I have learned the true wisdom behind his sage advice.
Chumps and champs
Going to concerts? That's for chumps. 
Performing concerts? That's for champs.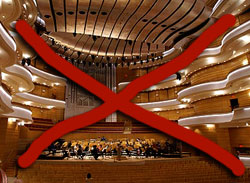 Why would I want to go hear a live concert when I know all the day-in and day-out details already? Listening to all those clams and out-of-tune chords from the audience just gives me indigestion and sweaty palms.
Why should I put myself through another performance of a Beethoven, Mozart or Mahler symphony when I have played those pieces dozens of times?
Besides, I already have intimate knowledge of most of the players involved: who is sleeping with whom, who is drunk or high on some thing or another, who is a womanizer, who is completely off their rocker, etc. etc. How could one possibly listen to this rabble without thinking about how off-balance these people are in real life?
For example – oh that poor second oboe player and his intonation issues. How are those beta-blockers working out for you? They don't seem to help with your out-of-tune octaves now do they?
I can't help but think about things like this when sitting out in an audience bored out of my mind. What is the point of even bothering? I am better than this and have better things to do.
Listening to recordings? That's what chumps do.
Making music? That's what champs do!
With all my students who are working on new music I tell them to not listen to other performances until they have found their own voice inside.
We all know that recordings are fictionalized hogwash – slabs of beef thrown together like a meatloaf packaged to look like a filet mignon. It's a dream fantasy that does not reflect reality. Listening to this drivel just fills a student's head with fairy tales. And besides, it only takes them away from their own inner path.
The hard reality is that all great music comes from the inside. This is at the heart of what my great teacher Professor Windbaag taught me and this is what I pass on to my students and anyone else who is smart enough to listen. Your inner voice will only come through if you look for it internally. All that outside influence is just noise as far as I am concerned.
You either have "it" or you don't and no amount of listening to live concerts or pre-recorded music is going to change that. The world is full of harsh truths and it seems that I am the only one brave enough to call it as I see it.
OK enough of this, I have a gig to get to.
5 articles: ARCHIBALD NOODLEFISH is rogue and scoundrel; a consummate professional in spite of what anyone else says about it. Mr. Noodlefish is the proud inventor of the Corno Ultimo and author of Practicing, Something Wussies Do and Hey You, Blow that Trumpet Somewhere Else!