The Next Big Step for Horn Matters

- - Please visit: Wichita Band Instrument Co. - -

When talking about the future of this web site John and I have often had conversations with the question, what is going to be the next big thing for the Horn Matters web site?
Our first anniversary cemented the idea that we were going to be around for a while. We have brainstormed and worked through a lot of ideas since then and one idea that we kept coming back to again and again was an online marketplace.
This would be a setup much like the hornplayer.net web site. It would be a means for buyers and sellers of French horn-related items to connect. Most importantly, this service would need to be simple-to-use and it would need to be free.
With the two-year anniversary for the Horn Matters site coming up and a new school semester beginning, the time seems right for Horn Matters to take this next step and make it a reality.
Very soon in fact, we will be ready to launch it and make it live.
Horn Matters Classified Ads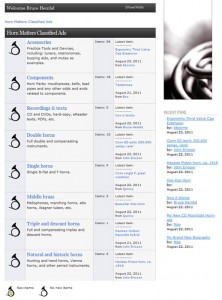 Right away we determined that Horn Matters Classified Ads would be open to the public. Anyone will be able to register and post items. Dealers and private sellers are all welcome.
A big goal for me as the project developer was to keep things very plain and simple. In the screenshot at right, the basic layout of eight main categories is shown:
Accessories
Components
Recordings & texts
Double horns
Single horns
Middle brass
Triple & descant horns
Natural & historic horns
Banner ads
Horn Matters Classified Ads will be ad-supported with banner advertising.
That being said, I am in charge of how these ads will look and will never ever allow a crazy, over-the-top-ridiculous ad. We try to run a class act here.
This aside, the interface of the Classifieds area itself will be very basic, clean and simple. In anticipation of lots and lots of users, we tried to make everything very easy-to-understand.
Also in anticipation, I have updated the web site with a new theme. It hints at what I hope the new Horn Matters Classified Ads area will turn out to be – – a network.
A call for beta testers
We have been in beta testing with a prototype area since Sunday. A few bugs – big and small – were found and dealt with. We are actually ahead of schedule and could be launching Horn Matters Classified Ads sooner rather than later.
We are still looking for beta testers and if you are interested, please send us a note. We want this to be something that people will use and it helps us a lot to get people to try it out.
And beta testers get a free sneak preview!

- - Please visit:
University of Horn Matters
- -