Pausing to Reflect, and into the Summer

- - Please visit: Wichita Band Instrument Co. - -
With the horn symposium behind me I head into the summer with the hope of completing a large writing project. More on that another day, but this is a good time to pause and reflect in general.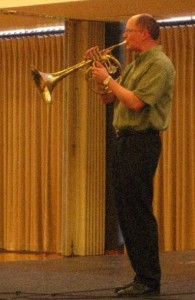 One thing that was interesting for me at this symposium especially is I realize better the impact my site has had in the horn world. It is a little hard to categorize exactly but blogging in particular provides an outlet for news and information of a type that the horn world has never seen before. I began to become more aware of this after major blog updates in late 2007, as before then my stats were somewhat sketchy. At that point I learned that the blog was getting more than double the traffic of my main website, and now it is way over 4X the traffic of my main site every day. Still, parts of the world remain unreached; China for example blocks access to sites such as Horn Articles Online with blog and Twitter elements. When I was in China a couple summers ago my online work was more or less completely unknown, and I suspect it remains so to this day.
In our Internet age information has a life of its own. I know that I have tried to tell everyone I can that Arizona State still has a MM program in horn performance, but the news release from ASU that said it was being dropped (which was technically true, a MM program in performance was dropped, but not one that horn majors would enroll in!) was picked up far and wide. It may take years to recover from that one fully. I was still asked about it at the symposium.
Recently it was brought to my attention by a well known hornist that something in my original HTML blog (pulled offline nearly two years ago in major updates to my site) had hurt them in terms of recruitment. Looking back at the post (no longer available online), I don't think I said anything unfair, and I strongly suspect that it was hornlist chatter that did most of what damage there might be. We talked it out, I have apologized, and as a general call, if there is something bothering you that is in the blog let me know. I do try to keep things positive (and honest) in a musical world with many strong personalities.
Relating to that, Bruce Hembd yesterday had a very interesting link to an article by pianist Max Levinson titled "How does great music engender such bitter people?" This article and its comments are worth slowly reading over. Myself, I am not bitter! But I do understand a lot of what they are saying. It is a tough world with arts managers not always being the best and brightest. I remain generally optimistic about the arts, for sure a percentage of the "bad news about the arts and education" articles we see are written as worst case scenarios with the idea of trying to shake some more critical support out of donors. Things will sort out, and I certainly hope that arts managers and educators in the thick of fund raising efforts get the best advice they can as to how to make an effective case for the arts.
Overall I am very happy to be at Arizona State and look forward to the next school year. It is a great school and one of the most affordable of the high quality music schools in the United States; check it out if you are considering horn study in the next few years.

- - Please visit:
University of Horn Matters
- -